Xyra's Book Review for Older Followers
The Fault In Our Stars
by John Green
Notes
The book, like the movie, is geared for young adults over the age of 13. Therefore I rate it PG-13 for adult situations and language.
I read the book as the movie was being released and did not see the movie until it was on HBO. Yes, there were differences and if you google you will find a few articles on the 10 major differences. Honestly, a couple stood out while I was watching, but overall I wasn't bothered by the changes.
While there are very few instances when a movie is as good as the book upon which it is based...this is one of them. But, as almost always is the case, the book is better than the movie.
If you have been putting this one off, move it higher on your reading list. It's well worth every minute of the time you spend with it.
The Review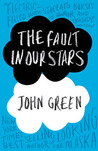 The Fault in Our Stars by John Green
My rating: 5 of 5 stars
Just beautiful. To think I was afraid to read this. Thank you to those who continued to say, "Read it" to me.
I didn't get a chance to read at lunch like I usually do, but did read some before bed. Some...I kept reading until the end. Yes, there were tears; they flowed silently down my cheeks as I kept reading.
Hazel, Isaac, and Augustus are wonderful characters. Ones that we need to know. [While they are older than my friend's son who has leukemia, they gave me a teeny, tiny idea of how he feels about what he is going through.]
The three teens are the main characters and we see them quite clearly through Hazel's eyes. Hazel is...Hazel is outstanding and honest and generous and caring and loving and supportive and compassionate. She is also angry and sad and in need of the very qualities and kindnesses she shows others. Thankfully she found that in Augustus. What a man?!
The two attack life with an acerbic wit - a wit that helps them and Isaac, but is quite lost on their parents. I love the way they interact with each other. [One of my favorite scenes is the egging.]
This is a wonderful love story. In fact a "Love Story" for this generation. Well written with very interesting main characters - suitably 3 dimensional just off main characters and appropriately flat third level/background characters.
I hope you get a chance to read this book. It's so different from everything else out there and so very wonderful.
Happy reading!